Discovery Sport Dynamic SE
Discovery Sport Dynamic HSE
DISCOVERY SPORT MODELS AND SPECIFICATIONS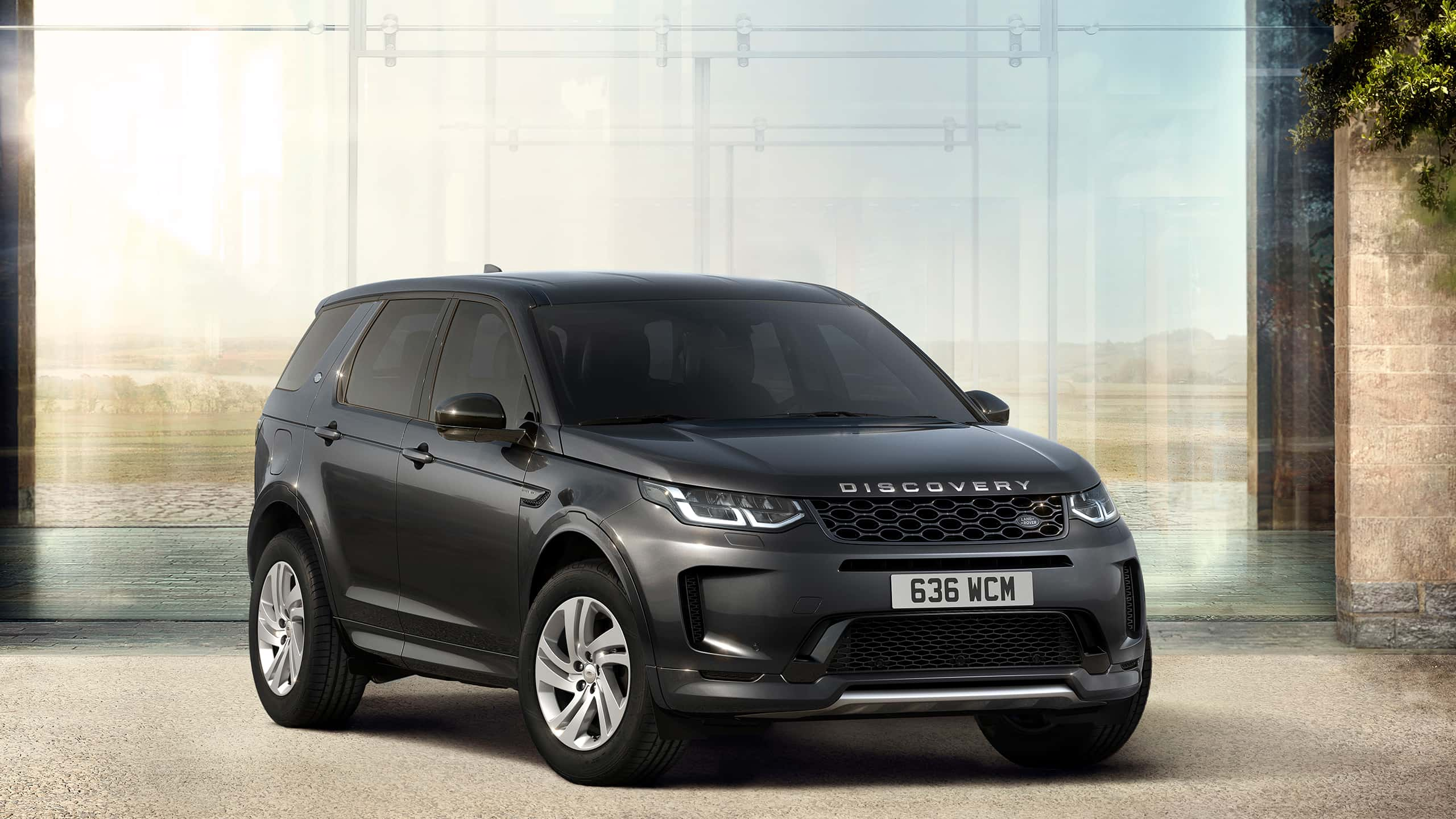 Discovery Sport S
Price From £44,790
18" Style 5074
DuoLeather seats
12-way driver and 10-way passenger electric driver memory front seats with 2-way manual headrests
Digital Driver Display
Wireless device charging
Exterior features
Heated windscreen
Heated rear window
Front and rear recovery eyes
Body-coloured roof
Driving assistance
Heated, electric, power fold door mirrors with approach lights and auto-dimming driver side
Rear Animated Directional Indicators
Emergency Braking
Rear Camera
Cruise Control and Speed Limiter
Lane Keep Assist
Traffic Sign Recognition and Adaptive Speed Limiter
All Terrain Progress Control (ATPC)
Terrain Response 2
Driver Condition Monitor
Front and Rear Parking Aid
Transmission and dynamics
Satin Chrome gearshift paddles
Hill Launch Assist
Dynamic Stability Control (DSC)
Electronic Traction Control (ETC)
Roll Stability Control (RSC)
Hill Descent Control (HDC)
Brake Hold
Electric Parking Brake (EPB)
Anti-lock Braking System (ABS)
Electronic Brake-force Distribution (EBD)
Trailer Stability Assist (TSA)
Headlights and lighting
LED headlights
Manual Headlight Levelling
Automatic headlights
Interior features
Heated front seats
Auto-dimming interior rear view mirror
Cabin lighting
Two-zone Climate Control with second row vents
Digital Driver Display
Standard seating configuration
Convenience
Wireless device charging
Sunvisors with illuminated vanity mirrors
Front and rear grab handles
Loadspace light
Loadspace cover
Infotainment
Digital Audio Broadcast (DAB) radio
Android Auto™ (subject to availability)
Apple CarPlay® (subject to availability)
Remote
Secure Tracker (12-month subscription)
Online Pack with Data Plan
Pivi Pro (Connected)
11.4" Touchscreen
12V power socket(s)
Bluetooth® connectivity
2 USB charging ports in first row
Row 2 USB x 2 & Row 3 USB x 1
Safety and security
Intrusion sensor
Tyre Pressure Monitoring System (TPMS)
Locking wheel nuts
Emergency Brake Assist
Rear ISOFIX
Discovery Sport Dynamic SE
Price From £48,240
19" Style 5136, Gloss Dark Grey with Diamond Turned contrast
DuoLeather seats
LED headlights with signature DRL
Meridian™ Sound System
Powered tailgate / boot lid
Fixed panoramic roof
Keyless Entry
Interactive Driver Display
Exterior features
Heated windscreen
Auto High Beam Assist (AHBA)
Heated rear window
Front and rear recovery eyes
Driving assistance
Heated, electric, power fold door mirrors with approach lights and auto-dimming driver side
Emergency Braking
Rear Camera
Lane Keep Assist
Traffic Sign Recognition and Adaptive Speed Limiter
All Terrain Progress Control (ATPC)
Terrain Response 2
Driver Condition Monitor
Front and Rear Parking Aid
Transmission and dynamics
Adaptive Cruise Control
Satin Chrome gearshift paddles
Hill Launch Assist
Dynamic Stability Control (DSC)
Electronic Traction Control (ETC)
Roll Stability Control (RSC)
Hill Descent Control (HDC)
Brake Hold
Electric Parking Brake (EPB)
Anti-lock Braking System (ABS)
Electronic Brake-force Distribution (EBD)
Trailer Stability Assist (TSA)
Headlights and lighting
LED headlights with signature DRL
Automatic Headlight Levelling
Automatic headlights
Interior features
Heated front seats
Metal treadplates with brand name script
Bright metal pedals
Auto-dimming interior rear view mirror
Cabin lighting
Two-zone Climate Control with second row vents
Interactive Driver Display
Standard seating configuration
Convenience
Powered tailgate / boot lid
Wireless device charging
Sunvisors with illuminated vanity mirrors
Front and rear grab handles
Loadspace light
Loadspace cover
Infotainment
Digital Audio Broadcast (DAB) radio
Android Auto™ (subject to availability)
Apple CarPlay® (subject to availability)
Remote
Secure Tracker (12-month subscription)
Online Pack with Data Plan
Pivi Pro (Connected)
11.4" Touchscreen
12V power socket(s)
Bluetooth® connectivity
2 USB charging ports in first row
Row 2 USB x 2 & Row 3 USB x 1
Safety and security
Keyless Entry
Intrusion sensor
Tyre Pressure Monitoring System (TPMS)
Locking wheel nuts
Emergency Brake Assist
Rear ISOFIX
Discovery Sport Dynamic HSE
Price From £53,390
20" Style 5076, Diamond Turned with Gloss Mid-Silver contrast
Windsor leather seats
14-way electric seats with driver memory and 2-way manual headrests
Heated and cooled front seats
Manual slide and recline second row seats
Matrix LED headlights with signature DRL
Exterior features
Heated windscreen
Heated rear window
Front and rear recovery eyes
Driving assistance
Heated, electric, power fold door mirrors with approach lights and auto-dimming driver side
Emergency Braking
Blind Spot Assist
Rear Camera
Lane Keep Assist
Rear Collision Monitor
Rear Traffic Monitor
Traffic Sign Recognition and Adaptive Speed Limiter
All Terrain Progress Control (ATPC)
Terrain Response 2
Driver Condition Monitor
Front and Rear Parking Aid
Transmission and dynamics
Adaptive Cruise Control
Satin Chrome gearshift paddles
Hill Launch Assist
Dynamic Stability Control (DSC)
Electronic Traction Control (ETC)
Roll Stability Control (RSC)
Hill Descent Control (HDC)
Brake Hold
Electric Parking Brake (EPB)
Anti-lock Braking System (ABS)
Electronic Brake-force Distribution (EBD)
Trailer Stability Assist (TSA)
Headlights and lighting
Matrix LED headlights with signature DRL
Front fog lights
Automatic Headlight Levelling
Automatic headlights
Interior features
Head-up Display
Heated and cooled front seats
Heated steering wheel
Illuminated metal treadplates with brand-name script
Bright metal pedals
Auto-dimming interior rear view mirror
Cabin lighting
Two-zone Climate Control with second row vents
Interactive Driver Display
Standard seating configuration
Manual slide and recline second row seats
Convenience
Powered tailgate / boot lid
Wireless device charging
Sunvisors with illuminated vanity mirrors
Front and rear grab handles
Loadspace light
Loadspace cover
Infotainment
Digital Audio Broadcast (DAB) radio
Android Auto™ (subject to availability)
Apple CarPlay® (subject to availability)
Remote
Secure Tracker (12-month subscription)
Online Pack with Data Plan
Pivi Pro (Connected)
11.4" Touchscreen
12V power socket(s)
Bluetooth® connectivity
2 USB charging ports in first row
Row 2 USB x 2 & Row 3 USB x 1
Safety and security
Keyless Entry
Intrusion sensor
Tyre Pressure Monitoring System (TPMS)
Locking wheel nuts
Emergency Brake Assist
Rear ISOFIX
††View WLTP figures
The figures provided are as a result of official manufacturer's tests in accordance with EU legislation with a fully charged battery. For comparison purposes only. Real world figures may differ. CO2, fuel economy, energy consumption and range figures may vary according to factors such as driving styles, environmental conditions, load, wheel fitment, accessories fitted, actual route and battery condition. Range figures are based upon production vehicle over a standardised route.
 
‡Figures provided are WLTP. WLTP is the new official EU test used to calculate standardised fuel consumption and CO2 figures for passenger cars. It measures fuel, energy consumption, range and emissions. This is designed to provide figures closer to real-world driving behaviour. It tests vehicles with optional equipment and with a more demanding test procedure and driving profile. 

**Dry: Volume as measured with VDA-compliant solid blocks (200 mm x 50 mm x 100 mm).
**Wet: Volume as measured by simulating the loadspace filled with liquid.
Weights reflect vehicles to standard specifications. Optional extras increase weight.